Wheelie good fun at the Ponteland Wheelbarrow Race!
The Ponteland community gathered in force to celebrate the time-honoured annual Wheelbarrow Race held on New Year's Day
Organised by Ponteland 41 Club with support from Ponteland Rugby Club and The Blackbird Inn, this well-known event sets out to bring the community together and in more recent years, has chosen to raise money for two local charities close to their hearts. This year, St Oswald's Hospice were chosen along with Tynedale Hospice at Home.
Danielle Harvey, Community Fundraising Manager at St Oswald's Hospice said, "St Oswald's Hospice has been supported through the Wheelbarrow Race since 2016, thanks to the connection that our former Chef, David Taylor, has with Ponteland 41 Club.
David is well known in Ponteland for his fundraising efforts in aid St Oswald's as well as infamously running with either a fridge or kitchen sink strapped to his back!"
The event itself began at 12noon with the Lord Mayor's Parade, formed this year by Ponteland 41 Club, Ponteland Town Council, Jill Errington's School of Dance and St Oswald's Hospice, with attention quickly turning to the three wheelbarrow races.
Starting with the Junior Race, Women's Race and culminating with the Open Race, pairs of participants push each other in wheelbarrows following a course around Ponteland, with the start and finish line at The Blackbird Inn.
Danielle shared, "Since our first year of support, I have worked closely with the Committee and together we have formed a wonderful friendship and working relationship. Everyone on the Planning Committee works so well together and complements one another roles. It's a wonderful team to be part of."
During this whirlwind event, spectators are welcomed to donate to both charities through collections on the day, with additional funds being raised through race registrations and wheelbarrow sponsors.
This year, we are thrilled to announce that each charity received £1670 from this fantastic event.
On Saturday 21st January, Danielle attended Ponteland Rugby Club's annual presentation evening to formally receive the cheque and we're thrilled to announce that this year, each charity received £1670.00 from this fantastic event.
"I love that this is our first fundraising activity of the New Year," added Danielle, "what better way to celebrate and set the year of on the right foot.
We are truly grateful for this continued support from all involved and hope that this Community tradition remains a tradition for St Oswald's in the years to come."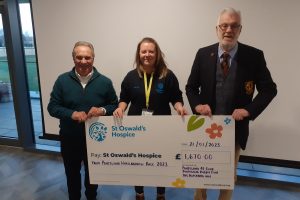 Philip Peacock (Chairman of Ponteland 41 Club), Danielle Harvey (St Oswald's Hospice) and David Comeskey (President of Ponteland Rugby Club)