Better Together Business Club
A low cost, philanthropic club for businesses in support of hospice nurses.
Join our club!
Our Better Together Business Club is a low cost, philanthropic club for businesses in support of hospice nurses. The money you and your fellow members raise through fundraising activities each the year will allow our nurses to continue doing what they do best – supporting North East families through difficult times.
Our challenge? To grow our Business Club so that in time, our members will fully fund two hospice nurses every year– what a wonderful gift to give to your community.
At just £20/month plus VAT and with no minimum membership period, even the smallest of companies can be involved.
As a member, you'll be in great company. We work with businesses of all sizes across the region and together, we love to collaborate, innovate and change lives for the better. Want to be part of something amazing? Check out the information below, or get in touch for a chat.
Meet our members
You'll find yourself in great company as a member of our club. See which other companies have decided we are better together.
How does it all work?
If you want to show your customers and your staff how you support your community then you are going to love being a Better Together Business Club member! Boost your staff morale, encourage team work and get those departments talking. You'll join as a member and receive a certificate, a link to your website from ours and access to volunteering opportunities, but as you fundraise, you'll move up to Champion and All Star Level, unlocking some great benefits for your staff and company.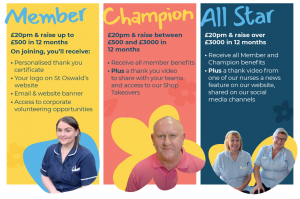 Frequently Asked Questions
You are in the business of making happy customers and healthy profits – we are in the business of care. We get paid a small percentage of our costs to care for people of all ages at some of the most challenging times in their lives. We are lucky to have the support of hundreds of companies like yours each year which help us to make up the money we need to support our patients and families.
The Better Together Business Club is a way for us to make the support we get from you more tangible, to thank you for your support and to help you to share the great contribution you have made with your staff, customers and other stakeholders.
The club has been formed to contribute towards the brilliant work of our nursing staff – across every team including adults and children, day care, inpatients and lymphoedema. Collectively your membership fees and the money you raise through fundraising activities during the year will fully cover the costs of two hospice nurses in the first year – what a wonderful thing to be able to do!
Membership of the club is designed to be accessible to everyone – regardless of your size or what you do. At just £20/month plus VAT and with no minimum membership period even the smallest of companies can be involved. And because your £20 will pay for an hour of 1-2-1 nursing at the hospice you can be sure that every single month you are making a difference to a family who really needs that care.
As a member of the Better Together Business Club you will receive:
• A logo on our website with a link to yours (preferably a page which highlights all the great stuff you do for your community)
• A custom 'we support hospice nurses' e-mail footer with your company name and logo and ours
• A certificate for you to proudly display to show your support of hospice nurses
You'll also be able to access corporate volunteering opportunities and our popular 'Shop Takeovers' which are exclusive to our Business Club members.
But we don't want you to just be a member. If your company and/or your staff begin or continue to raise funds for St Oswald's Hospice you will rise up the Hall of Fame Ladder – from Member to become a Champion, or even All Star! Your level depends on the amount you raise.
When you hit All Star level you'll receive a personalised thank you from one of the nurses whose role you have helped to fund, which we'll share on our social media accounts, and a spotlight news feature on our website.
Join our mailing list and we'll send you our bi-monthly Better Together e-newsletter
Enter your details below to enquire about signing up. A member of the better together business club will then be in touch to discuss!